Indoor swimming pool in Toro, Zamora
Client
City Council of Toro.
Location           
Toro. Zamora, Spain.

Dates
Competition: September 2004  |  Project: December 2005  |  Completion: 2010.
Architects and Construction managers
VIER ARQUITECTOS SLP (Antonio Raya, Cristóbal Crespo, Santiago Sánchez, Enrique Antelo).
Collaborators
Architects: Pablo Vilares Calvete, Cristina De Vera Juárez, Ruth Varela Rodríguez.
Quantity Surveyor: José María Sastre Martín.
Contractor
Ferrovial Agromán S.A.
Area
2.441,00 m2.
Photographer
Héctor Fernández Santos-Díez.
---
Awards
WINNER- Mediterranean Bioarchitecture BaM/012 Award. Barcelona, Spain. April 2012.
WINNER - Piscina Barcelona 2011 Award. Recreational sports facilities. ITEC & FIRA Barcelona. October 2011.
WINNER - I Sustainable Building Prize in Castilla y León 2006. October 2006.
WINNER - Public Competition. September 2004.
---
Publications
Building rammed earth walls in the municipal swimming pool in Toro (Zamora, Spain). Rammed Earth Conservation. Proceedings of the first international conference on rammed earth conservation, RESTAPIA 2012, Valencia, Spain, 21-23 June 2012. Croydon (Reino Unido): 2012. ISBN 978-0-415-62125-0. Pgs. 187 - 192.
Boletín Académico. Revista de investigación y arquitectura contemporánea, 2. A Coruña, Galicia (Spain). Ed. Esteban Fernández Cobián, Mercé Gambús Saiz, Antonio Santiago Río Vázquez, 2012. Available on internet: <www.boletinacademico.com>. ISSN 2173-6723. Construir con Tapial: Piscina en Toro. Pgs. 27 - 35.
DETAIL Revista de Arquitectura y Detalles Constructivos · Construcciones sólidas. 2012 - 1. Germany. 2012. ISSN 0011-9571. Piscina en Toro. Pgs. 60 - 63.
DETAIL Review of Architecture and Construction Details · Concrete, Brick, Stone. 2012 - 1. Germany. 2012. ISSN 0011-9571. Swimming pool in Toro. Pgs. 54 - 57.
PISCINAS XXI, Nº 240. Bilbao, Spain. 2012. ISSN 0210-6868. Reseña: Instalaciones acuáticas innovadoras: Premio Piscina BCN a la obra en uso. Piscina municipal de Toro. Pgs. 67.
Congreso Europeo de Infraestructuras Deportivas. Comunidad Valenciana, Spain. 2011. ISBN 978-84-848424-1-2. Piscina Municipal de Toro. Pgs. 308 - 311.
ZAXXI, Arquitectura Zamorana de S. XXI. Castilla y León (España): Fundación FUNCOAL, 2011. ISBN 978-84-694-7091-6. Piscina Municipal, Toro. Pgs. 55 - 57.
V Premio de Arquitectura Ascensores Enor. Galicia, Spain. Grupo Ascensores, 2011. ISBN 978-84-694-7323-8. Reseña: Piscina Municipal, Toro. Pg. 500.
DETAIL Publication 2011.11, Massive Bauten. Zeitschurift für Arquitektur + Baudetail. Munich, November 2011. ISSN 0011-9571. B 2772. Schwimmbad in Toro. Pgs. 1250 - 1253.
ARCHITECTURAL DIGEST. Die Schönsten Häuser Der Welt. Berlín, June 2011. ISSN 1433-1764. "Irdene Kathedrale". Pgs. 54 - 58.
ECOLOGIK 20. Architecture, ville, société, énergie. Paris, April – May 2011. ISSN 1961-7267. ISBN 978-2-9523500-4-4. "De Terre & D'Eau" Piscine municipale couverte, Toro (Zamora), Castille-et-León. Pgs. 120 - 129.
ARQUITECTURA DE TAPIA. Fermín Font y Pere Hidalgo. Ed. Colegio Oficial de Aparejadores y Aparejadores Técnicos de Castellón. Castellón, 2009. ISBN 978-84-613-3142-0. Piscina cubierta climatizada municipal de Toro (Zamora). Pgs. 158 - 159.
CIC ARQUITECTURA Y CONSTRUCCIÓN 441. Madrid, Spain. October 2007. ISSN 1576-1118. Piscina climatizada en Toro (Zamora), Premio Edificación Sostenible. Pgs. 64 - 69.
ARTE Y CEMENTO 2051 / 7. Bilbao, Spain. 15 April 2007. ISSN 0212-8578. Piscina cubierta en Toro. Zamora. Pgs. 102 - 103.
PISCINA XXI, Nº 204. Bilbao, Spain. November - December 2006. Piscina cubierta en Toro. Zamora. Pg. 117.
---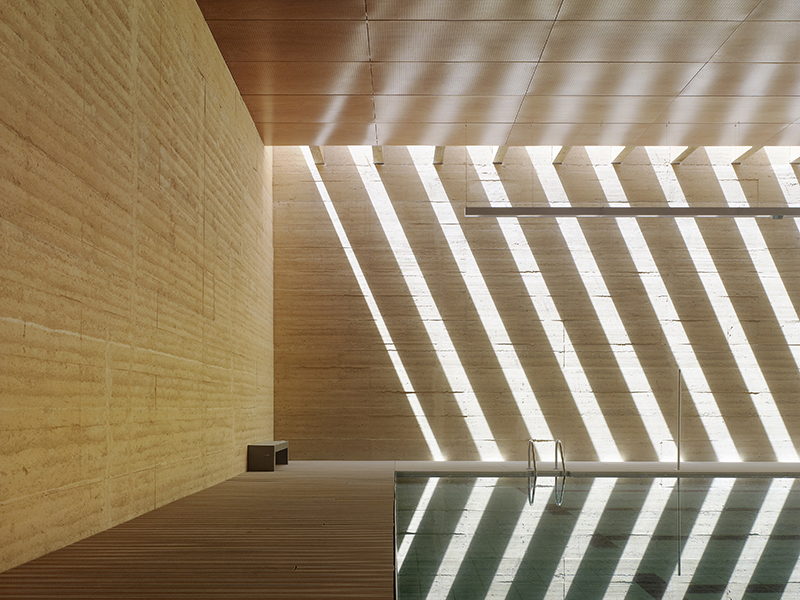 Description
This new swimming pool comes out as a result of the proposal submitted to a public competition called by the City of Toro. The building tries to incorporate a new piece in the city, taking over the representative image the building must show according to its public nature, being able to fit in with dignity and, as far as possible, becoming a part of the architectural heritage of the town. Certainly not in a position of prominence, but assuming the suggestions of an environment enriched with history and tradition. By this way, the municipal swimming pool wants to be an austere building that, without abandoning the contemporary architectural language, may know how to give an expressive continuity to the Toro´s patrimonial bequest.
Through the definition of bearing walls and exterior cladding to be built in rammed earth, the pool is conceived as a closed space, focusing on the texture of the walls, its form and composition that enhances the expressive conditions we considered suitable for solving the required image and program in the urban environment where it is located. The pool protects itself from external climatology and non-desirable views through its rammed earth perimeter walls. Over their edges, the roofs of the changing rooms emerge, suggesting the presence of inner courtyards. The scale and layout of the building, the texture of the walls and their color, even freed from ornamental elements, follow the compositive guidelines present in the monumental architecture of Toro.
The closed and severe aspect of the building contrasts with the image that appears as soon as one enters through the threshold. The different areas in which the program is divided take natural light and ventilation from a series of interior courtyards that also allow visual control of the buildings, making them transparent, translucent or opaque, as suitable. Moreover, they add passive support to the heat regulation, allowing natural ventilation from shaded areas. The main volume, which contains the swimming pool basin, must possess a strict control of its inner climate conditions. For this reason, the exchange with other areas is reduced to the maximum and treated as an autonomous volume regarding the rest of the complex.
The initial intention of solving the main walls in rammed earth has led us to intensive research of traditional techniques and the newly developed and improved ones in countries like Germany, Austria or the United States over the last decade. From the outset, we decided not to apply traditional methods, seeking to update the skills of construction in rammed earth in order to situate them amongst the levels of quality control currently required for the conventional construction processes. Besides to the logic that preside the choice of rammed earth as the main bearing system, considering aspects of tradition, texture, color, etc., we found that this is a highly desirable material due to its technical characteristics - homogeneity, indoor humidity control, thermal inertia, permeability – as well as others such as economy, ease of placing and environmental sustainability, despite its poor thermal transmittance.
A system of solar panels for hot water to be used in showers heating is oversized to support cooling the pool water as well. They are placed over the sloping roofs of the two changing room volumes, which are intentionally south oriented. Renewal water from the pool is stored and reused for irrigation, as health regulations in this area do not allow other wastewater reuse.
Regarding sustainability, it is noteworthy that the earth in which the walls were built came from the excavation of the site, as first samples taken from the soil revealed its suitability. Different additives were incorporated based on the results obtained through essays. It is interesting to notice how profitable the environmental effects were in terms of savings both in transport and in the supply of substitute materials for the rammed earth itself. Materials such as concrete or ceramics depend on industrial processes that require much more significant energy consumptions.