Sports Center in Guntín (Spain)
Client
Secretaría General para el Deporte de la Xunta de Galicia.
Location           
Guntín. Lugo, Spain.

Dates
Project: September 1999  |  Completion: 2003.
Architects and Construction managers

Antonio Raya, Cristóbal Crespo and Carlos Qvintáns.
Collaborators
Architects: Santiago Sánchez Iglesias, Enrique Antelo Tudela.
Quantity Surveyor: Saúl González Casas.
Contractor
Opain S.L.
Area
1.746,92 m2.
Photographer
VIER ARQUITECTOS SLP.
---
Publications
ARTISTAS GALLEGOS. ARQUITECTOS. Ed. Nova Galicia, S.L. Carlos del Pulgar Sabín. 2004. ISBN (Tomo) 84-96293-55-6. Pgs. 266 - 293.
---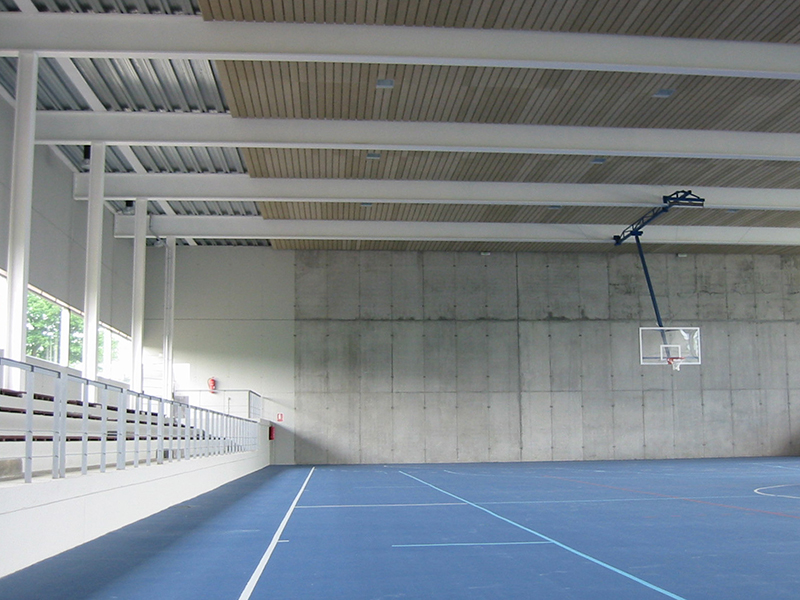 Description
The project takes shape into two volumes, one, of a bigger size, containing the sports arena and the grandstand, the other one, with smaller dimensions, allocated for the dressing rooms. The latter is separated from the previous one thanks to a small covered courtyard. The access takes place trough the south corner, on the encounter of the dressing rooms, the courtyard and the arena with the external ramp that leads to the grandstand. This ramp is bordered by a concrete wall linked to the court volume through a series of beams which provide it with rigidity and which, at the same time, serve as a support for some vegetable elements (vines and climbing plants).
The courtyard adds vegetation to the interior of the building and serves as a heat regulator. The generosity of its volume has as a main goal the securing of the dignity that a public building with such features requires.
The external appearance is that of a great concrete volume with concentrated openings; facing Northeast trough a wide large window located behind the grandstand and facing Southwest trough a big glazed surface, separated from the arena by the courtyard, avoiding that way, any annoying sun effects on the arena. There is a third opening which collects all the lightning and ventilation for the dressing rooms and toilets.