Client
Private.
Location           
Soñeiro, Sada. A Coruña, Spain.

Dates
Project: December 1996  |  Completion: 1998.
Architects & Construction managers
Antonio Raya, Cristóbal Crespo and Carlos Qvintáns.
Collaborators
Architects: Santiago Sánchez Iglesias, Enrique Antelo Tudela.
Contractor
Ángel Varela Deconstrucciones.
Area
149,52 m2.
Photographer
VIER ARQUITECTOS SLP.
---
Awards
HONORABLE MENTION - V JULIO GALÁN CARVAJAL Award 2001.

HONORABLE MENTION - VI Young Spanish Architects Exhibition. Antonio Camuñas Foundation. Madrid, May 2000.
SELECTED PROJECT - IBERFAD Award 2000.
---
Publications
25 CASAS DE GALICIA 1994-2004, ARQUITECTURAS DA URBANIZACIÓN DIFUSA. Ed. espontáneas. A Coruña, 2005. ISBN 84-934604-0-0. Pgs. 60 - 62.
ARTISTAS GALLEGOS. ARQUITECTOS. Ed. Nova Galicia, S.L. Carlos del Pulgar Sabín. 2004. ISBN (Tomo) 84-96293-55-6. Pgs. 266 - 293.
MUESTRA DE MUESTRAS. LÍNEAS MAESTRAS DE LA JOVEN ARQUITECTURA ESPAÑOLA 1990-2002. Fundación Antonio Camuñas. 2003. ISBN 84-923941-5-3. Pgs. 129 - 134.
V PREMIO JULIO GALÁN CARVAJAL. COAG, COA Asturias, COACYLE, COAL. 2001. Pgs. 46 - 47.
6ª MUESTRA DE ARQUITECTOS JÓVENES ESPAÑOLES. Fundación Antonio Camuñas. Madrid. May 2000. ISBN 84-923941-2-9. Pgs. 8 - 12.
VIA Arquitectura 11.V. Individualidad. Revista del COACV, Alicante. May 2002. ISSN 1137-7402. Pgs. 112 - 115.
ARQUITECTURA Y DISEÑO 6. El mueble. Madrid, 2000. ISSN1576-2645. Pgs. 92 - 101.
PREMIS FAD. ARQ-INFAD. Arquitectura, Interiorisme. Barcelona. June 2000. Pg. 5.
---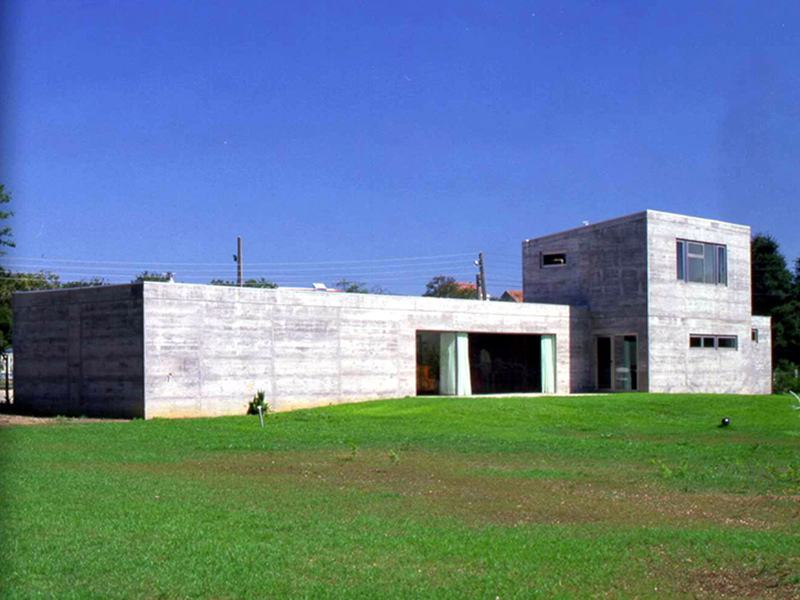 Description
The solution adopted is a house which principally developes on the lower floor, with a pronounced longitudinal component arisen from its location, and a small body on the higher floor with a single-slope roof. The integration of two small interior patios facilitates the lighting of the pieces on which the control of the views will take place, and their presence also allows the incorporation of interesting aspects of spatial and visual relation among the different areas of the house.